The Translation Company Talk Show is a B2B podcast show that covers issues and opportunities for the language translation industry. We touch on everything related to translation, and related services including interpreting, transcription and localization. Topics that are regularly covered include business and management of a translation company, sales and marketing, crisis management, staffing, technology and trends within the translation industry. This show is geared towards translation company owners and staff, but anyone with an interest in this industry may find the topics informative and useful. The Translation Company Talk Show is hosted by Sultan Ghaznawi and sponsored by YYZ Translations. Comments and feedback can be sent to podcast@yyztranslations.com or you can connect directly with Sultan Ghaznawi via LinkedIn to share your opinions.
Episodes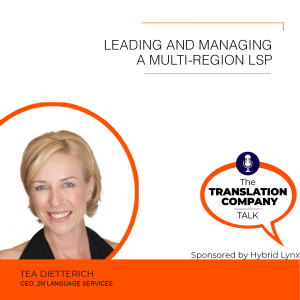 Sunday Jun 12, 2022
Sunday Jun 12, 2022
In this episode of the Translation Company Talk podcast, we discuss LSP leadership in a transborder and multinational context. Tea Dietterich, CEO of 2M Language Services in Australia talks about her experience as an entrepreneur who started her LSP with a laptop from her bedroom which has scaled up to a multinational across 3 continents in multiple countries. She talks about her experience leading teams of people across different jurisdictions and cultures and highlights what has worked well for her which translated into business success. 
Among the many topics we cover in this episode, we discuss how to think globally as a language company owner, strategic corporate behavior complemented by reactive and on the fly adaptive vision, business horizon and landscape visibility measurement in time units, building alliances that extend beyond your geographic presence, rapid innovation, strategic translation sales mindset, building a team in which everyone feels a sense of belonging, aligning corporate values with strategic objectives and much much more. 
Don't forget to subscribe to this podcast on iTunes, Apple Podcasts, Google Podcasts, Spotify or your platform of choice, and please keep your comments and feedback coming. Give us a five star rating wherever you are listening.
This podcast is sponsored by Hybrid Lynx.